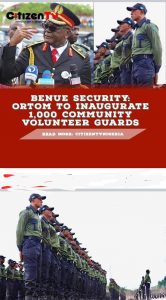 Nigerian Concord Newspaper
Benue state governor, Chief Samuel Ortom, has warned members of the Benue State Community Volunteer Guards against partisan politics, stressing that curbing insecurity in the country can be achieved with combined efforts o.
Governor Samuel Ortom said this today while delivering his speech at the Passing Out of the second batch of Benue State Community Volunteer Guards at the IBB Square, Makurdi.
Read the full speech below:
SPEECH BY HIS EXCELLENCY THE EXECUTIVE GOVERNOR OF BENUE STATE, SAMUEL ORTOM ON THE OCCASION OF THE PASSING-OUT OF THE SECOND BATCH OF BENUE STATE COMMUNITY VOLUNTEER GUARDS (BSCVGs) ON THURSDAY, 13TH OCTOBER 2022 AT IBB SQUARE, MAKURDI
Protocol
It is with great sense of commitment to ensuring security of lives and property, as well as peaceful co-existence for all the people living in the confines of Benue State that the Benue State Government alongside Benue communities decided on the establishment of Community Volunteer Guards (Vigilante) with the Law enacted by the Benue State House of Assembly in July, 2000 and amended in October, 2021.
2. You may recall that on 4th August, 2022 we inaugurated the first Batch of 500 trained Community Volunteer Guards to complement the efforts of the conventional Security operatives at combatting increased incidents of insecurity and breach of peace by incessant attacks on Benue farming Communities. In fact, these attacks have displaced millions of our people, most of them taking refuge in Internally Displaced Persons (IDPs) Camps. The ugly trend informed the amendment of the Community Volunteer Guards as (Amendment) Law, 2021 which came into force on 26th day of October, 2021. This Law is to strengthen and give meaning to the Law banning Open Grazing of all forms of domestic animals, enacted by the Benue State Government in 2017 to prevent incessant attacks on our farming communities and to encourage Ranching as the international best practice in animal husbandry.
3. In order to enhance effective operation and proper coverage of the State, the Benue State Government has decided to train as additional 1,100 Personnel to the 500 earlier trained and inaugurated on 4th August, 2022.
4. I wish to reiterate that the essence of the Benue State Community Volunteer Guards Law as amended is to complement the formal Security Agencies especially the Nigeria Police in crime prevention and securing of lives and property in Benue State.
5. I believe, all well-meaning Nigerians feel very challenged over the spate of wanton killings and abductions being meted out on Nigerians, especially on the unprotected rural farmers, travelers and defenseless Students.
6. All of us, as Nigerians, have a responsibility to check this evil, the intrusion of those who are set to decimate, take over and control our resources and destiny as a nation with every deserving force and will.
7. In this regard, the training and Passing-Out of the second Batch of Benue State Community Volunteer Guards (BSCVGs) is not just a mere celebration of the involvement of the people in protecting themselves but also, a milestone in the effort to ensure a stable, peaceful and united Nigeria where all and sundry shall enjoy equal rights and God given freedom.
8. On this note, I once again urge the Command structure of the Benue State Community Volunteer Guards to operate strictly within the ambit of the Law, in order not to betray the powers bestowed on you by the people. Remain apolitical, conscientious, courteous, vigilant and strong to stand firm and protect the people.
9. It is important for you to be mindful that the conventional Security Agencies are your allies and your success depends on how well you synergize with them as co-workers.
10. On our part, the Government and people of Benue State will continue to give you moral support, pray for you and equip you adequately to succeed in the performance of the onerous responsibility you have taken upon yourselves.
11. Towards this end, the Benue State Government has already procured some essential equipment as permitted by Law and handed them over to the Nigeria Police for use by the Benue State Community Volunteer Guards (BSCVGs) for effective crime fighting. Motor vehicles and Motorcycles have been made available to you directly and additional vehicles and motorcycles have been procured and will be made available to you today as part of essential logistic tools for crime fighting.
12.This giant step towards self-defence is indeed a clarion call to Nigerians of Nationalistic and Patriotic spirit to rise and not only support our cause but also throw in their weight to maintain and sustain our lives and nationhood.
13. I have on behalf of the Benue State Government applied to the responsible Federal Government Agency for approval to procure automatic weapons, particularly AK47 Assault Rifles to further strengthen your logistic support base and your defense capability. I am still awaiting approval from the Federal Government to deal accordingly.
14. State Governments are currently working with the Federal Government of Nigeria towards moving from community policing to State Police. When this eventually becomes a reality we will give the current Community Volunteer Guards the pre-emptive rights to join the State Police. That is, the first right of first refusal.
15. At this juncture, I appreciate the strong will of the Security Agencies towards fighting the menace of Boko Haram, Banditry, ISWAP, the merciless killing of our farmers by marauding Fulani terrorists "herders" which have become a security threat of unknown magnitude in the history of our dear nation.
16. I urge you all – The Nigeria Police, Army, Air-force, Navy, Civil Defence Corps and other Paramilitary Agencies to remain resolute and committed to your oath to defend our dear country Nigeria.
17. Furthermore, I implore the Traditional Rulers, Religious Leaders, Leaders of Thought, to all stand for the oneness and continuity of our dear nation.
18. Finally, we toast in prayer the victory of righteous path over evil thus, Hip!, hip!!, hip!!!.
19. Thank you all and God bless.
20. In God we trust.