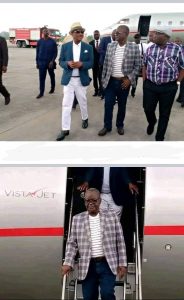 Nigerian Concord Newspaper
Benue state governor, Samuel Ortom, has opened up on his relationship with his Rivers state counterpart, Nyemson Wike.
Governor Samuel Ortom spoke on this during an interview where he was reacting to Miyetti Allah's claim that he has neglected his responsibilities and become an errand boy for Governor Wike.
According to the governor, his critics are pained because of the good relationship he enjoys with the Rivers state governor, stressing that Wike proved to be a good friend with his solidarity to Benue state when Miyetti Allah people killed innocent people of the state.
His words: "My relationship with Wike pains them. You know your true friend when you are in distress. When the same Miyetti Allah came with their people and attacked and killed our people, Wike came here with stakeholders from Rivers State.
"I was not close to Wike before. We disagreed on a number of things. I looked at it and said this is somebody that can be a friend, and we are working together. Nobody will stop me from being friends with Governor Wike.
"We speak to ourselves frankly. He is not happy with what is happening in the country today, and nobody is happy about this, so we are on the same page. Birds of the same feather flock together. He has spoken to condemn this administration and what Miyetti Allah is doing.
"He followed us in Benue and established the law prohibiting open grazing in Rivers State. They are annoyed because I have taken the lead in guiding people. I know that some states are already asking me about the process of establishing the Community Volunteers Guard, which they will adopt. Very soon, you will see it.
"If the Federal Government had listened to us, because you see the security men are doing their best, but they lack capacity, manpower, equipment, training and funding, they do not have it. We have been talking about restructuring and trying to have state police for a long time. The Federal Government does not want it. They want to control the security at the centre so they will do what they want."