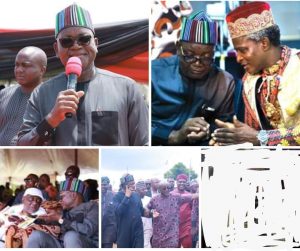 Nigerian Concord Newspaper
Benue State Governor, Samuel Ortom has disclosed that work on the construction of the road linking Obagaji to Okokolo in Agatu Local Government and Agagbe in Gwer West will commence soon.
Governor Ortom stated this Friday, September 30th, 2022 in Obagaji, headquarters of Agatu Local Government in his the funeral oration at the burial of Pa Eliagwu Ikoja, father of the Och'Idoma, Agabaidu, John Elaigwu.
He said the road contract which was earlier awarded by his administration at the cost of N4 billion naira was delayed because of paucity of funds.
Governor Ortom who pointed out that the construction of the road was necessary to ease the suffering of the people expressed optimism that even if he was unable to complete the road, the incoming administration of Engr. Titus Uba would.
While consoling the Och'Idoma, his immediate family and the people of Agatu local government over the demise of Pa Ikoja, Governor Ortom said he was proud and excited that the late community leader died as a Christian, saying it was clear where he would end up.
The Governor used the occasion to also sympathize with the people of Agatu and many others across the state who have been affected by flood occasioned by the release of water from Lagdo Dam from Cameron republic and hoped that the water would soon recede.
Senator representing Benue South, Abba Patrick Moro in his funeral oration, described the deceased as an icon, stressing that the presence of Governor Ortom at the funeral was an indication that Pa Ikoja lived an impactful and fruitful life.
Senator Moro enjoined the family of Pa Ikoja to rather than mourning the passage of their father, they should strive to emulate his life style so that they too would remembered for the positive impact they created while alive.
The Deputy Governorship Candidate of the People's Democratic Party, Sir John Ngbede thanked Governor Ortom for his support to Agatu people through roads construction, his emergence as the deputy Governorship Candidate of the PDP as well as that of the Ochi Idoma.
Governor Ortom and his entourage later paid homage to the Och'Idoma at his residence in Obagaji where he charged the paramount ruler to use his position to provide leadership that would be appreciated by the people of Benue.
In his response, the Och'Idoma who was in company of other traditional leaders in Idoma land thanked Governor Ortom for the show of love and solidarity.