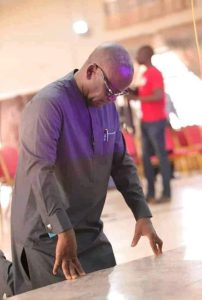 Nigerian Concord Newspaper
The immediate past governor of Benue state, Chief Samuel Ortom PhD today honoured the invitation for questioning extended to him by the Benue state office of the EFCC.
Contrary to media reports that Chief Samuel Ortom was arrested by men of the EFCC, the former governor on his own went with his lawyers to honor the invitation of the anti graft agency.
Culturally, the EFCC uses to invite former governor and other public officials for questioning
Recall that Ortom said it many times in the last days of his administration that he would be ready to appear before any anti graft agency if called for questioning on his eight years administration as governor of Benue state.
Am official of the EFCC who spoke with our reporter on the development said that inviting someone doesn't mean that the person is guilty of the allegations made against him.
The official who didn't want to be mentioned for official reasons added that it's not today that the EFCC has been inviting people and would later free them when nothing was found against them.
The official commended Chief Ortom for voluntarily honoring the agency's invitation, stressing that he will be released after the interrogative session with his investigators.