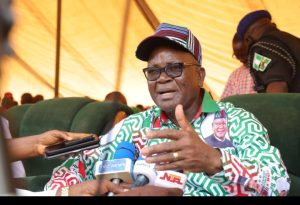 Nigerian Concord Newspaper
Benue state governor, Chief Samuel Ortom has condemned allegations that he sent some soldiers to kill Fulani herders in Nasarawa state.
Governor Samuel Ortom said this during the week at a summit on the forthcoming Population Census organized by the National Population Commission (NPC) in conjunction with the state government.
Recall a media report which stated that over forty three people were killed in Nasarawa state during an operation conducted by the military.
In his reaction to the allegation that he had a hand in the attacks, the Benue state governor said that those pointing accusing fingers at him over the incident were just being wicked and malicious by putting up such lie on his head.
According to him, the Operation was from Defense headquarters, adding that no one sought his consent even when Benue people were found there.
He accused the opposition All Progressives Congress, APC, of diverting attention after losing their case at the Appeal Court.
"I did not send anyone to Nasarawa State to create problem" he noted.