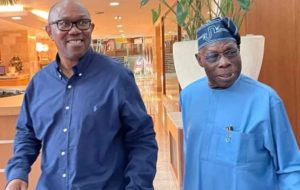 By Aare Abiodun Oluwarotimi, reporting for Nigerian Concord Newspaper
Nigerians have taken to the social media to condemn the endorsement given by former president Olusegun Obasanjo to the presidential candidate of the Labour Party, Mr Peter Obi yesterday.
Obasanjo who is known for his usual mischief at all elections since he left power in 2007 had yesterday in his new year message described Obi as the most qualified person to take over from President Muhammadu Buhari in 2023.
Most Nigerians who reacted to the endorsement warned that no one should take Obasanjo serious as he has always wanted to lead Nigeria to destruction as a result of his selfish interest.
They berated the former president for bringing Muhammadu Buhari as president in 2015, stressing that the emergence of the present president is the reason Nigeria is facing calamities today.
According to them, Dr. Ebele Jonathan was at the verge of restructuring Nigeria when Chief Obasanjo maliciously damaged him and made the world powers to hate his administration.
They stressed that the increment in fuel prices, poor economy, poor state of security, killings here and there, kidnappings and poor governance in Nigeria today should be blamed on Obasanjo who deceived Nigerians to accept Buhari as president in 2015.
They went further to blame the former president for blackmailing the then INEC chairman, Prof. Attahiru Jega for him to accept to rig the 2015 presidential in favour of Muhammadu Buhari.
They said Chief Obasanjo has always been a selfish leader who doesn't see anything good in the progress of the country.
They also said that Obasanjo cannot genuinely claim to be a problem solver now when he was the person that brought problems and calamities upon Nigeria.
They however warned Nigerians from accepting any candidate from Obasanjo as he is not backing Obi in the best interest of the country but for his own selfish gains.