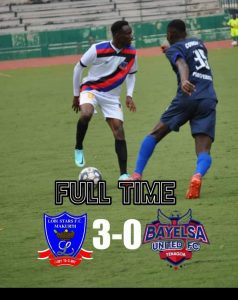 Nigerian Concord Newspaper
Nigeria Premier Football League rookie, Kumaga Suur, posted a five-star outing as Lobi Stars overwhelmed Bayelsa United in a match day four clash at the New Jos Stadium.
A brace from Suur and a strike from Umar Abba was enough to push the Makurdi side to the second position, on the log.
It was a day made for Suur, who came in from the bench in the sexond half and teammate, Joseph Atule.
Suur and Atule simply continued from where they stopped at the their last match day win over Abia Warriors, in Umuahia.
Head Coach, Mohammed Baba Ganaru, rotated his match day squad to boost performance.
Striker, Nanen Imenger, was the only player in the squad who was absent from the starting XI at Abia Warriors.
For strategic reasons, Suur, who scored the winner in that encounter took his place on the bench.
Lobi started the first half with intent but lacked the cutting edge after several attempts were wasted.
Wing back, Lazurus John, displayed high level of intelligence when his clinical cross created anxiety in the visitor's defense just 20 minutes into the game.
Centre back, Chinedu Sunday, came close to the opener, when he released a powerful shot from a freekick.
However, his effort was denied by the goalpost.
Seven minutes later, impressive Akile Monday, sent in a cross from the wing, but Atule was unable to connect
There was a moment of anxiety when Bayelsa United's top scorer, Robert Mizo, had only Emmanuel Daniel in goal to beat, but couldn't put the ball behind the goalkeeper.
The first half ended goal goalless.
With Ganaru determined to change the course of the game, he introduced Suur for Imenger, who made instant impact.
Lobi Stars threw everything at the Bayelsa defence and it struggled to stay firm.
In the 67th minute Suur tapped it for the first goal after a beautiful display by Atule.
Ten minutes after, Abba initiated a pass to Atule and he dazzled Bayelsa's Saro Loveday for the second time to connect with Suur, who doubled the lead in the 78th minute.
Mizo Robert almost reduced the deficit but the combination of Moses Tsehuan, Sunday, Akile and Lazarus were alert to prevent danger.
Abba eventually scored the third of the day when Atule who has been impressive since joining the Makurdi-based side took out Saro again.
Atule's delivery to Umar was sumptuous and the attacker made it three on 84th minutes.
Efforts made by the visitors to reduce the tally proved abortive till full time.