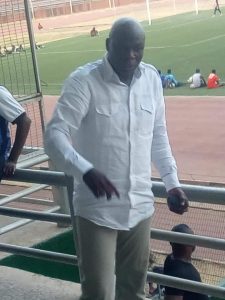 Nigerian Concord Newspaper
Vice chairman of Lobi Stars Football Club of Makurdi, Dominic Iorfa, has boastedd that the club's unbeatable records show that it would top the league table and clinch a continental ticket.
The football tactician who spoke to sports writers at the Aper Aku Stadium, said since he started managing the club, he has been relying on God.
He said he does not leave God for any moment, so, God does not forsake him at any time.
According to him, the club's successes in Jos has been due to the people's prayers and God's faithfulness.
"I give credit to God Almighty for the journey so far, the boys have been loyal just as the state government has been showing full commitment to the funding", Iorfa emphasized.
According to him, the shifting of home matches to Jos has become a blessing in disguise because the people's goodwill has strengthened the resolve of Coach Ganaru, Club Chairman Engr Abounu, Governor Ortom, the entire management team and the players/supporters including journalists in ensuring the club tops the league table.
While promising that within few months, Aper Aku Stadium would be in good shape, Iorfa who was the fastest runner in Abiola Babes and the National Team, stressed that all the players of Lobi have collectively contributed to the successes recorded so far and urged the club's media team and the body of SWAN not to relent in taking the club to higher heights.