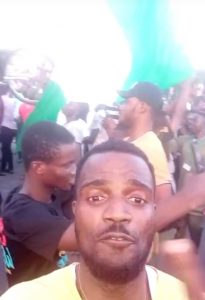 By Folake Adeniyi, Lagos
Unknown gun men believed to be political thugs on Friday, last week attacked the Shomolu house of a student union activist, one Itehinola Kolade.
Kolade according to our investigation was one of the protesters that carried out the 2020 End SARS protests across the country. He was specifically sighted at Lekki Toll Gate during the protests.
Nigerian Concord Newspaper gathered from people who witnessed the attack on Friday night that the attackers who came with guns, cutlasses and other dangerous weapons were heard shouting the name of Kolade while they ransacked the whole apartment for twenty minutes.
It was also gathered that the attackers left the house when it became obvious that their target wasn't there at the time.
Meanwhile, Kolade's neighbours who spoke with our reporter on a condition of anonymity said the apartment was bursted twice last month by some policemen and some people believed to be political thugs.
They told this Newspaper that Kolade was one of the End SARS protesters that were arrested by the police in October last year while planning to hold the first anniversary of the End SARS protests to honour victims that were killed at the Lekki Toll Gate.
A younger brother to Kolade who also didn't want to mention his name for security reasons stated that his brother was attacked in the same house at Palmgrove area of Shomolu sometimes in February this year but he managed to escaped unhurt.
He pressed further that Kolade was also attacked physically twice by suspected political thugs before his whereabout became unknown
The source also made it known that Kolade joined the Yoruba nation agitators immediately after he was released by the police in 2021.