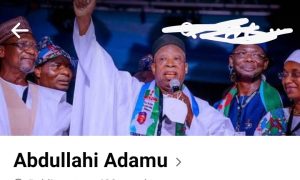 Nigerian Concord Newspaper
Nigerian Concord Newspaper can authoritatively report secret plots by the minister for special duties and intergovernmental affairs, Senator George Akume, to remove the national chairman of the All Progressive Congress, Senator Abdulahi Adamu.
Akume's reason for seeking the office of the APC national chairman is that both the presidential and vice presidential candidates of the party are Muslims.
According to impeccable sources, Akume has been preaching the need to have a Christian as the national chairman of the All Progressive Congress so that christians in the party won't feel marginalized.
Akume, it was said has gone to discuss his plan to have Adamu removed as national chairman of the ruling party with the Minister for Justice, Abubakar Malami who is believed to be the closest person to President Muhammadu Buhari.
Akume, according to findings has also met with the chief of staff to President Buhari, Professor Ibrahim Gambari, to prevail over the president to approve Adamu's removal so he (Akume) can take over being a Christian.
According to findings, Senator George Akume has also contacted pressure groups to begin massive protests next week. The protests will be tagged "Adamu must go. Say no to muslim-muslim ticket and also a Muslim national chairman. Tinubu is a Muslim, Shettima is a Muslim so APC national chairman cannot be a Muslim".
While Malami has reportedly agreed with Akume as a result of Adamu's refusal to impose him as the governorship candidate of the party in Kebbi state in the last primary elections, Gambari has refused to make his decision known.
A source said: "Our party is facing a serious internal crisis because we have a Muslim presidential candidate, a Muslim vice presidential candidate as well as a Muslim national chairman. This is going to consume the party but the role Senator George Akume is playing is bad. He is the one behind all the physical and media protests that Adamu should be removed.
"Akume sees the APC national chairmanship as his birth right and he has been running from place to place, preaching that Adamu, being a Muslim should be removed and he being a Christian should replace him.
"Several groups have been bought over by the former Benue state governor and you people will start seeing them call for Adamu's removal as from next week. Truly, Adamu has to go but I don't think Senator George Akume should be the one to plot and call for his removal from office.
"I can boldly tell you that Malami has agreed with Akume that Adamu should be removed, and his reason is that the embattled national chairman didn't support his ambition to be the party's governorship candidate for Kebbi state during the last primary elections. Also , the president's chief of staff has been briefed by Akume but I understand that he hasn't made his position about it known"
In a related development, the APC national chairman has raised an alarm that Akume is the one behind the clamour for his removal from office just because the party can no longer parade a Muslim as her national chairman when both the presidential and vice presidential candidates are Muslims.