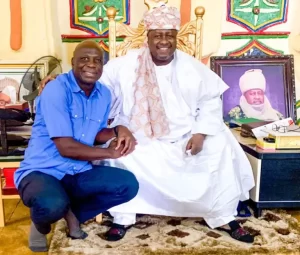 Nigerian Concord Newspaper
The Emir of Bauchi, His Royal Highness Suleiman Adamu (CFR) has lauded the vice chairman of Lobi Stars, Mr. Dominic Iorfa over the excellent performance of the Benue-owned football club in the present NPFL Season.
Emir Suleiman Adamu who made this commendation during the week when Dominic Iorfa paid him a courtesy visit in his palace also showered the former Nigerian international player with royal blessings over his role to develop football in Benue state and Nigeria as a whole.
Recall that Lobi Stars Football Club is maintaining its lead in NPFL Group B by having 16 Points in the eight matches played so far. It won five, drawn one and lost only two away matches. Coming behind Lobi Stars is Abia Football Club with 13 points in the eight matches played so far.
During the visit, the Bauchi monarch who has had over three decades relationship with Iorfa displayed his joy over Lobi Stars' excellent performance in the current season under the leadership of the former Nigerian footballer.
In his prayer, the monarch said that his wish is for Lobi Stars to pick a Continental ticket at the end of the ongoing NPFL Season.
Saying that he was happy to welcome his "very good" friend, Dominic Iorfa, and his delegation to his palace, the Emir noted that the Benue State government took a wise decision to bring him back to rescue Lobi Stars from relegation last season.
According to him, when the football administrator stepped away from his position the other time, he felt unhappy because those who had served the country with utmost dedication and commitment deserve every support and encouragement to administer the game in Nigeria.
Speaking during the visit, the Lobi Stars vice chairman and CEO recalled the good moments he has had with Emir Adamu whom he said had a great passion for the game of football beginning from his active days as an amateur player with Zagbai FC of Bauchi.
The Lobi Stars vice-chairman, therefore said he was not surprised that even as he is occupying an exalted position, His Royal Highness is still enthusiastic about football and relating closely with people like him who rendered meritorious services to Nigeria in football.
"My cordial relationship with His Royal Highness started right from my days in BCC Lions. As a talented footballer himself, he was one of my ardent fans. Anytime we were in Bauchi for a league match, he was there to support me.
"It is, therefore not surprising to me that despite his high position as a First Class Traditional Ruler, he has maintained close contact with football. He has so many friends among football stakeholders and I am happy to be one of them. He is indeed a colleague for life.
"It is in view of the above that I deemed it necessary to pay homage on him for my share of royal blessings now that I have another opportunity to be in Bauchi," said the former Super Eagles striker.