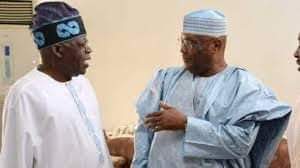 Nigerian Concord Newspaper
APM suit against Tinubu may be the bridge for Atiku Abubakar to walk into the presidency.
1. June 2022, Tinubu submitted form with Ibrahim Masari as "place holder" . Something unknown to the Constitution.
2. June 17, 2022. Deadline for submission of nomination
3. July 10, 2022, Mr. Shetima the Borno central zone candidate for senate was submitted by Tinubu, at the expiration of 3 weeks withdrawal notice to INEC by Masari.
Summary: Masari was submitted as the VP candidate before close of nomination. Shetima already holding the senate nomination accepted VP nomination after deadline for nomination. Only a fresh primary within 14 days could have produced a new ticket in replacement of the invalidated ticket.
Points of law:
1. Withdrawal of Ibrahim Masari as VP to Tinubu invalidates the joint Ticket (Read section 142 (1) of the Nigerian constitution and section 133 of the electoral ACT)
2. Substitution of Shetima did not follow due process. APC ought to have conducted another primary to produce their candidate within 14 days of Masari's withdrawal (See section 133 of the electoral Act)
3. Shetima's withdrawal when nomination has closed mean that APC had no candidate for Borno Central senatorial zone.
4. WIthdrawal of Masari and Shetima not properly nominated as VP renders Tinubus ticket invalid.
5. All votes cast in favour of Tinubu are wasted votes.
6. Alhaji Atiku Abubakar is the INEC declared Winner of the election.
1. Electoral Act.
Political parties changing candidates.
33. A political party shall not be allowed to change or substitute its candidate whose name has been submitted under section 29 of this Act, except in the case of death or withdrawal by the candidate:
Provided that in the case of such withdrawal or death of a candidate, the political party affected shall, within 14 days of the occurrence of the event, hold a fresh primary election to produce and submit a fresh candidate to the Commission for the election concerned.
2. Constitution
141. There shall be for the Federation a Vice-President.
142. (1) In any election to which the foregoing provisions of this Part of this Chapter relate, a candidate for an election to the office of President shall not be deemed to be validly nominated unless he nominates another candidate as his associate from the same political party for his running for the office of President, who is to occupy the office of Vice-President and that candidate shall be deemed to have been duly elected to the office of Vice-President if the candidate for an election to the office of President who nominated him as such associate is duly elected as President in accordance with the provisions aforesaid.