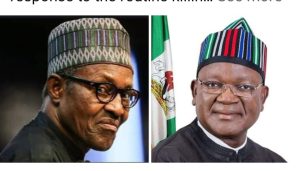 Nigerian Concord Newspaper
ANYONE reading Mallam Garba Shehu's response to the routine killings in Benue State would think that Samuel Ioraer Ortom, the Governor, is Nigeria's major security challenge. From berating him for losing a senatorial election to accusing him of manipulating the media on the serial killings in Benue State. Garba speaking for President Muhammadu Buhari, or the Presidency as they commonly call it these days, was celebratory. You could almost think Nigeria's insecurity had been defeated.
The attacks blamed on Fulani herdsmen pre-dated Ortom and Buhari. They have been on the increase in the past eight years of Buhari. Some blame it on Ortom's anti-grazing law that pushes ranching as the solution to the take over of Benue communities by Fulani herdsmen. The attacks preceded the attacks. They have continued with the law.
In 2018 when 74 Benue people were killed in Guma, and other parts of Benue, the President's reaction was, "I appeal to Governor Ortom to restrain his people. I assure you that the police, the Department of State Service and other security agencies had been directed to ensure that all those behind the mayhem get punished.
"I ask you in the name of God to accommodate your country men. You can also be assured that I am just as worried, and concerned with the situation," the President said.
The President's speech dripped with his partiality. One would think that the Fulani herdsmen were the victims.
He invited Benue leaders to Abuja, instead of visiting Benue. Little wonder that the Inspector-General of Police who the President ordered to re-locate to Benue until the situation was controlled left after some hours in Benue.
The killers were not punished, the police boss was not sanctioned even when his disobedience was brought to Buhari's attention during a visit to Makurdi two months after. The killings continued, in April, eliciting this standard, trite retort to new killings, "Our thoughts and prayers are with the families of those murdered. The entire nation stands united in the fight against the forces of terror and evil. I urge aggrieved parties to embrace efforts to end this extreme violence."
Garba was extreme in his latest defence of the inexplicable failures to protect lives in Benue, a sample of the new meaning of the constitutional provision that the security and welfare of the people was the primary purpose of government.
He listed Buhari's inexhaustible interventions in Benue to include:-
i. A number of in-person meetings with the Governor of Benue State and other community leaders, assuring them of the Federal Government's commitment to protecting farmers and communities.
"ii. The establishment and funding of Joint Security Operations, code-named Operation Whirl Stroke (OWS). To date, the OWS Team remains in place. A number of OWS security agents have given their lives protecting the people of Benue. Many were endangered further by Ortom's fake news and disinformation campaigns, and his unwillingness to engage with the project.
"iii. The deployment of special security forces to flash-points in the State including the Nigerian Army, Nigerian Air Force, Nigerian Navy, Nigerian Police Force, Department of State Services and other security agencies.
"iv. The deployment of an array of NAF fighter aircraft, Mi-35 helicopter gunships as well as Intelligence, Surveillance and Reconnaissance platforms.
"v. The Deployment of ten (10) Units of the Police Mobile Force, Ten (10) Units of Police Special Forces (Tactical Operation Units) and Aerial Surveillance Teams (Police Helicopters).
"vi. The Acquisition and deployment of modern military armaments.
"vii. The provision of timely and actionable intelligence to Ortom (which was routinely ignored).
"viii. The prompt provision of humanitarian support to victims via the Ministry of Humanitarian Affairs, Disaster Management and Social Development."
Was Ortom the Commander-in-Chief? Do the security agencies need his permission to act "on actionable intelligence"? We should note that Garba was reacting to the burial of 74 people killed last month, some in the IDP camps where they sheltered from earlier attacks.
Is there a worse response to death of Nigerians? There was in 2018 when another Femi Adesina, another presidential media aide suggested that Benue people should choose their lives over their lands. These fully reflect the administration's attitude to the killings.
The January 2018 response from Ortom is still relevant and underlines the hollowness of Garba's position, "We don't have powers over the security of this country, except the Federal Government. It is expected that the Federal Government will support us to enforce our laws and the laws of the Federal Republic of Nigeria."
Garba writes as if the wielder of the powers of the Commander-in-Chief is in doubt. He remains President Muhammadu Buhari, who tells us he has done his best, and repeatedly says he was tired and looked forward to returning to his cattle in Katsina.
Is Garba suggesting that Governors in Anambra, Enugu, Ekiti, Ondo, Kaduna, Katsina, the President's State, Kogi, Imo Zamfara, Niger, Sokoto, Kebbi, are compliant to Buhari's security orders unlike Ortom? Or they are pliant? Is there a difference in the performance of the security agencies in those places? Are we to commend the decided muteness of their Governors over Ortom who speaks out?
Ortom makes the mistake of thinking Buhari hates Benue people. He doesn't except that his attitude sustains the belief that he only loves himself, and his cattle. What has Buhari done about insecurity in Katsina? Only in February, 41 people died when villagers went after bandits who stole their cattle and sheep? Does he hate Katsina people?
How many people have been killed, kidnapped, including security agents, in Niger State? Would Garba praise Governor Abubakar Sani Bello's sterling performance? Yes, he could since Governor Bello has not asked the President to do something.
Which Governor's refusal of orders facilitated the jail break in Kuje Correctional Centre, a mere 47 kilometres from the President's residence in Abuja? It must be Ortom. Who else?
Garba has no virulent words for Governor Nasir Ahmad el-Rufai. Kaduna is a haven which explains its ceaseless killings and kidnappings. In Zango-Kataf, the killings are regular, repetitive; government is irresponsive. People are killed, buried and the rest await the next round of killings.
"Worst affected are villages in the south of Kaduna State, where armed men killed at least 366 people in multiple attacks between January and July 2020," an Amnesty International report stated. The marauders were said to have exploited the COVID-19 stay-at-home order to attacks with ease. Garba didn't see Ortom's signature on this?
Governor el-Rufai often eulogises security agencies for retrieving rustled cattle from bandits. Could that be their brief?
In Imo, Anambra and Enugu do unknown gunmen prosper because the Governors act on "actionable intelligence"?
Buhari built rails, roads, and bridges that kidnappers took over, the ascendancy of hate speech is one of his most famous achievements that emboldened the Garba type of condolence message to the people of Benue.
Ortom did not do well in Garba's eyes. Buhari's performance is worst than the worst Governors. If Garba is in doubt, he should ask Saidu Faskari, a farmer in Katsina State, who in January 2022, had to sell his house's roofing sheets to raise ransom for the release of his eldest son, kidnapped by bandits, who released Faskari, after the said son paid a N50,000 ransom for his father. The kidnappers demanded N100,000 to release the younger Faskari who brought the ransom for his father's release.
Finally…
ASIWAJU Bola Ahmed Tinubu, Jagaban Borgu, President-elect, is already exceeding his promise of continuing from where President Muhammadu Buhari. The composition of his inauguration committee is not a hint, but a hit. The list – Senator Abubakar Kyari, Coordinator, Director of Finance and Budget; Stella Okotete, Head of Secretariat, Planning and Monitoring; Makinde Araoye, Director, Venue, Parades, and Swearing-in; Bayo Onanuga, Head of Media and Publicity; Dr Betta Edu, Co-ordinator, Medical Team; Col. Abdulazeez Yar'Adua, Head, Security and Ceremonial Parade; Zainab Buba Marwa, Pre-inauguration Dinner and Gala Night; Samira Saddik, Children's Day; Abuh Andrew Abuh, Accommodation; Dr. Danladi Bako, Inaugural Lecture; Hadiza Mohammed Kabir, Transportation and Logistics; Donald Wokoma, Protocol and Invitation; Bishop Adegbite, Church Service; and Imam Faud, Jumat Service. The South East should ignore the affront. We have survived worst things.