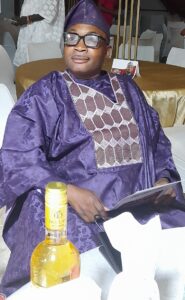 By Christianah Tersoo, Makurdi
The Secretary to the government of the Federation, Senator George Dajoh Akume has reportedly ordered for the arrest of the publisher of Nigerian Concord Newspaper, Aare Abiodun Oluwarotimi for reporting the rifts between him and the governor of Benue state, Father Hyacinth Alia on his newspaper website.
This step was disclosed to Aare Abiodun himself by the media consultant to the SGF, Dr. Mkor Aondona while speaking over the telephone few days ago.
Mkor had called the journalist to inform him of the planned arrest as ordered by the SGF.
According to Mkor in a well recorded telephone conversation, Senator Akume wasn't happy over some angles of his internal rifts with Governor Alia that were reported by Nigerian Concord Newspaper two weeks ago.
Mkor however mentioned in the recorded telephone conversation that the police would track and bring the publisher to Abuja for questioning over the newspaper reports.
His words in the recorded telephone conversation: "My friend, watch everywhere you go as from now because police will catch you and bring you to Abuja to face the law.
"You are not only dealing with Akume. You are dealing with the Secretary to the Federal Government so be prepared"
Recall that Nigerian Concord Newspaper had been publishing the internal rifts between the duo for some weeks.
DM us on 08138893079 if you need the telephone conversation as recorded when the threats from Mkor Aondona became too unbearable.