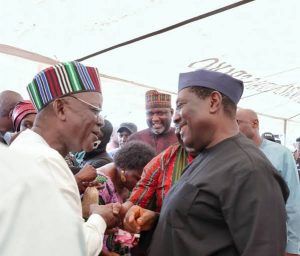 Nigerian Concord Newspaper
I have noted your views regarding my defense of Governor Samuel Ortom over allegations you and cohorts are raising that he is plotting the removal of Dr. Iyorchia Ayu as National Chairman of the PDP.
The raisin d'etre for your 'holy anger' against the governor is that he is seeking the downfall of a fellow Tiv man.
But I espy a wonderful opportunity this moment offers you to emerge as true nationalists by answering the following simple questions:
1. Recall that only recently you were all over the cyber space in rabid hysteria nattering about how wrong it was for Governor Ortom to seek making Dr. Ayu National Chairman of PDP at the same time your leader, Senator George Akume, was seeking to be National Chairman of APC.
To you the emergence of Dr. Ayu as PDP's National Chairman was abhorrent for the singular fact that Senator Akume was seeking same office at same time, despite that it was in another party.
Your anger then did not reckon with the possibility of these two Tiv men emerging to those two offices at the same time.
(i) Was Dr. Ayu at that time a Tiv man or not?
(ii) Was Governor Ortom at that time a lover and supporter of a fellow Tiv man or not?
2. During that same period you had raised all manner of allegations about how the entire Benue State treasury was being emptied by Governor Ortom to ensure the emergence of Dr. Ayu as National Chairman, and despite the lack of substance to those allegations, you had shouted yourselves hoarse in desperate bid to push the false narrative through to public attention.
(i) Do you by your current position in 'support' for Dr. Ayu concede that Governor Ortom was not guilty of looting the state's treasury to install the PDP National Chairman, as you had virulently alleged?
(ii) Was Governor Ortom at that time a lover and supporter of a fellow Tiv man or not?
3. During the time of your leader, Senator Akume, as Governor of Benue State, he had caused the removal of a fellow Tiv man, Chief Barnabas Iyorhyer Gemade as National Chairman of PDP, this in spite that Chief Gemade it was who had almost single handedly made Akume governor.
It was your leader as well who caused to be intiated a determined campaign to recall Senator JKN Waku (MHSRIP) from the Senate, not minding that they were both in the same PDP.
It was under Senator Akume's watch as Leader of the Opposition APC that Tiv sons, Dr. Paul Orhii and Dr. Roberts Orya were removed as DG NAFDAC and MD/CEO NEXIM Bank, respectively, when APC came to power.
Same Senator Akume it is who invented the shocking narrative that "it is the Tiv who are killing one another, and not the Fulani herdsmen".
In contrast Governor Samuel Ortom has no history of ever causing the removal of any Tiv son from a position of power at the national level.
(i) Between Governor Ortom and your leader, Senator Akume, who has shown himself by deed as a hater of his fellow Tiv brother?
So between Akume and Ortom, who is a hater of the Tiv nation?
Bemgba Iortyom reacts to articles from APC social media handlers