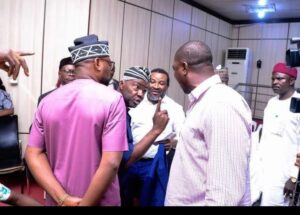 Nigerian Concord Newspaper
Nigerian Concord Newspaper can authoritatively report moves by the governor of Benue state, Reverend Father Hyacinth Alia to remove the embattled chairman of the state chapter of All Progressive Congress, Comrade Austin Agada over his role to stop Aondona Dajoh from emerging as Speaker of the Benue State House of Assembly yesterday.
Agada who was acting on the order of the Secretary to the Government of the Federation, Senator George Akume to gather supports from the lawmakers for Becky Orpin was seen yesterday moving from one legislator to the other, canvassing for votes for the Gboko East lawmaker.
Recall that the Agada-led State Working Committee of the All Progressive Congress had on Sunday endorsed Orpin as a consensus candidate for the office of the Speaker of the Benue State House of Assembly.
Sensing dangers in the movements of Agada yesterday, the Chief of Staff to the governor, Mr. Paul Biam approached the embattled chairman and asked him to stop working against the choice of Governor Alia which was Aondona Dajoh.
To show his loyalty to Akume, the chairman (Agada) engaged Biam in a heated argument, an action which earned him a dirty slap from the Chief of Staff to the governor.
It however took the intervention of Hon. Terhemen Tarzoor and Mr. Mike Msuaan to separate Biam and Agada who were ready to exchange blows in the presence of journalists and members of the public.
Despite that Aondona Dajoh won the voting and became the speaker of the Tenth Assembly, the cabals surrounding Alia still advised him to immediately remove Agada as chairman of the ruling party to avoid leaving fire on his roof.
A top government house source stated that Paul Biam has been mandated by the governor to commence the removal process of Agada from office.
Although it was confirmed that Agada had sent words of apology to Alia this morning, the decision to remove him from office had been perfected and cannot be stopped.
According to Alia's men, there is no way he can work with Agada as the state chairman of ruling party again since he has proved to be insubordinate.
Nigerian Concord Newspaper has now gathered that a vote of no confidence will be passed on Agada by the State Working Committee of the party during their next meeting.