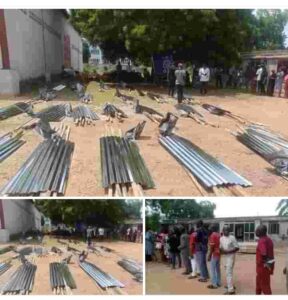 Nigerian Concord Newspaper
Benue people today took to the social media to mock their state governor, Reverend father Alia for empowering youths of the state with two sheets of roofing zinc each.
The empowerment was made through the State Emergency Management Agency, SEMA.
According to social media activists who took to the social media to mock Alia, the Benue State governor should emulate his counterparts who have been empowering youths in their various states with cash running to billions of Naira, buses, cars, tricycles and motorcycles for public transportation.
They condemned Alia, saying he doesn't have the interest of Benue people in his heart.
More later