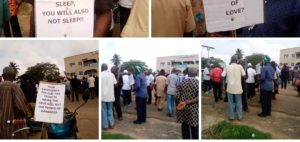 By Aare Abiodun Oluwarotimi
Nigerian Concord Newspaper's investigation has revealed how chieftains of the Benue state chapter of All Progressive Congress masterminded the protest embarked upon in Makurdi on Wednesday by some paid old men and women who claimed to be Benue pensioners.
Investigation by our reporter indicated that the said protest was sponsored by chieftains and leaders of APC in Benue state in order to embarrass the person and office of the governor of the state, Samuel Ortom.
Each of the protesters was paid N10,000 to embark on the protest aimed at misinforming the public over how the governor has been kind to Benue pensioners, Nigerian Concord Newspaper learnt.
Sources said that some APC leaders met the protesters at the weekend and distributed the money to them with a clear instructions that they were to embarrass the Benue state governor and the People's Democratic Party during the protest.
It was also gathered that the sponsored protest was not unconnected to the forthcoming general elections which the APC wants to win by crooked means.
"They want to put all sorts of lies on Mr. Governor even though they are aware that he is trying his best to pay salaries and pensions but they are after him so he can lose credibility. Their plan is to use the protest to misinform the public over the condition of Benue pensioners" a source said.