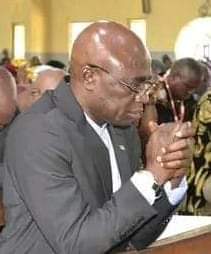 Nigerian Concord Newspaper
Peoples Democratic Party (PDP) in Benue State has called on Governor Hyacinth Alia to come forth before the people to confess and seek their forgiveness for the empty promises he made to them during the 2023 campaigns, this as a necessary first step towards achieving the right take-off for his government
This was contained in a press statement signed and made available to journalists by the State Publicity Secretary of the party, Mr. Bemgba Iortyom.
The statement reads:
PDP yesterday from an analytical assessment based on the first month in office rated Governor Alia as having achieved the worst take-off of all governors of the state since 1999, and his Chief Press Secretary, Tersoo Kula took umbrage at our candid assessment accusing our great party of lacking the moral right to assess his boss.
According to the CPS in a press statement issued earlier today, the PDP sponsored administration of immediate past Governor, Samuel Ortom is guilty of a plethora of crimes against the state ranging from mismanagement of resources to looting of government properties.
But rather than continuing on the path of concocting fictitious allegations against Ex-Governor Ortom, which must first be proved in court, and seeking to make a scapegoat of him, PDP urges Governor Alia to open up to the people in candid confession that be lied to them at the last elections in bid to get their votes, so that he may align early enough with the reality that governance in realtime is worlds apart from those promises he made.
Our great party urges the governor to come to terms with the fact that no governor anywhere in the world inherits a perfect situation, but the serious ones take charge, roll up their sleeves and set to work implementing their vision, while the weaker and unserious ones on the other hand slink into the shadows looking for excuses and scapegoats with which they may cover their failings.
A dominant emblematic trait of this later category of governors over time has remained their penchant for sweeping flowery promises made during and after the campaigns which brought them to power, and the absence of a cogent vision in their kitty for governance.
PDP observes with worry that Governor Alia is increasingly showing tell-tale signs of belonging in this later category of governors, with his love for blaming his predecessor for everything, this in gross violation of the universal principle of leadership which rests all responsibility on the table of the incumbent and not the predecessor.
We are aware the governor during the campaigns devoted most of his efforts to making fantastic unrealistic promises targeted at hoodwinking the electorate, and gave little attention to developing a vision document, and today what he may call his blueprint had earlier been suspected of being partly plagiarized and put together basically for publicity show.
Without a cogent blueprint, it is understandable the quandary Governor Alia is in at the moment as he is confronted with the reality of governance being so far apart from the sweeping promises he made during the campaigns – the promises to clear salaries and pensions arrears and return IDPs to their homes in 100 days and turn Benue into "Heaven on Earth" – those are promises which the governor made but which he now knows he isn't anywhere near fulfilling..
Our great party urges the governor to take the path of honour and come to understanding with the people over the promises he made to them, so he may outline what is realistically achievable to his government.
As it stands now those flowery, sugary promises remain an albatross against Governor Alia's credibility, one which he must deconstruct to be able to give his government the identity it needs to work.