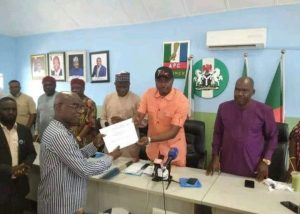 Nigerian Concord Newspaper
The suspended priest who desperately wants to be governor of Benue State by hook or crook has taken falsehood to new heights. Nothing about the man comes out to be true. After conducting fake healing masses to hoodwink unsuspecting people to follow him, Alia now wants to turn truth on its head. He forges every document to appear as an authentic candidate of APC.
Take a look at the attached screenshots from yesterday. The renegade priest was at the APC state secretariat in Makurdi where another forgery was performed. The confusion in their camp was at play once again. While the APC publicity secretary Dan-Morgan Ihomun wrote that Alia was there to receive "certificate of acknowledgment" from INEC (there is nothing like INEC certificate of acknowledgment), the other APC social media urchins wrote that Alia was there to receive "certificate of return". Hahahaaa. See the screenshots by yourself.
What shocks me the most is that the man encourages such lies and receives whatever they bring to him with relish, as far as he is told that the forgery will make people like him. Alia is ridiculously but dangerously desperate! Such a man can do anything, if trusted with power.
Let me remind you of the uncountable other lies and forgeries that the contumacious priest has told and done since he abandoned priesthood. See them below:
His Suspension
The Catholic Church does not allow any of its priests to join politics in a multi-party state. Never!
It was shocking when the suspended priest, Alia came out to say that the letter Bishop William Avenya wrote suspending him was to officially release him to run for governorship. What! A letter which clearly stated that the priest was suspended because of his rebellion (contumacy) against the church became "permission" to go and contest for election? God of Nigeria!
His School Certificate
The man released his purported WAEC certificate which was obviously forged. All WAEC certificates, whether GCE or SSCE, bear two important numbers – the Candidate's number and the Certificate number. It is only Alia's WAEC certificate that is different without any of those two numbers. What a man!
The APC guber Primaries
The yahoo yahoo governorship primary election that Sen. George Akume said he won is the worst nomination process ever seen in Benue state. It was only in Vandeikya that some hemp smoking APC hooligans were hastily assembled to queue up and pretend as if they were voting. Pictures and videos were made to say that a direct primary election was held. No election took place.
But our 'man of God' came out to accept the result of the sham and described it as transparent, free and fair. Kai!
The Holy Bible has much to say about the sin of stealing, and this does not exclude the rigging of elections.
In the book of Luke 16:10-14 thus: "Whoever can be trusted with small things can also be trusted with big things. Whoever is dishonest in little things will be dishonest in big things too."
God warns us in the book of Leviticus 9:11 "Do not steal. Do not lie. Do not deceive one another."
He Lied Against Aondoakaa
While almost all the other APC guber aspirants headed to court to challenge the forged result of the primary election in favour of Alia, his campaign team published a report with old pictures of him and former Minister of Justice, Chief Mike Aondoakaa claiming that he had "conceded defeat" to Alia. In a swift reaction, Aondoakaa's camp refuted the report and cautioned Alia's camp never to publish such falsehood again. Ridiculous desperation by the renegade priest!
Forged INEC document
Long before the Independent National Electoral Commission, INEC published names and credentials of 2023 candidates sent to it by political parties, Alia's camp forged a document and circulated on social media claiming that it emanated from the electoral umpire. It was soon proved to be fake and forged. Na wao!
Indecisiveness
After nomination, a candidate is usually expected to announce his running mate. But in the case of Alia, nearly four months after Akume, Shango, Gyado and Agada pronounced him winner of the "direct primary election", he is yet to decide who will fly the flag with him. In his indecision and confused state, Akume sent the name of his aide and kinsman, Barrister Shima Vembe to INEC as deputy governorship placeholder. Hahahaha.
A man who cannot do a thing as simple as pick a running mate has no capacity to lead a state. It will take him two years to announce a cabinet.
His Visit to El-Rufai
Recently, Alia visited Kaduna state Governor, Mallam Nasir El-Rufai
and signed an agreement with the Governor and other Islamic extremists who listed terms and conditions to give him the financial support he asked from them to help run his campaign. One of the terms of the agreement was that he will permit the Emirate system in Benue state and to also allow Fulani cattle herders free access to grazing fields in all the 23 local government areas of the state. Alia eagerly accepted the conditions.
A man who is only seeking public office and is already lying as if his life depends on falsehood will be very dangerous to the state.
The good news is that APC won't have a candidate for the 2023 governorship election in Benue state. They have used their own hands to nail themselves.
Joe Nashima, a guest writer,writes from Makurdi