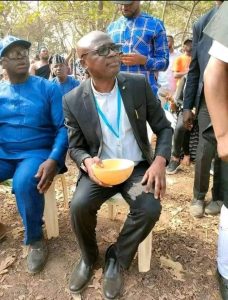 Nigerian Concord Newspaper
The embattled governorship candidate of the Benue state All Progressive Congress, Reverend Father Hyacinth Alia,
has described Senator George Akume, Aper Aku and Moses Adasu who are past governors of Benue state as thieves.
Father Hyacinth Alia made the comment in a press statement personally signed by him but posted by his media handlers on Sunday.
In the statement, a copy which was obtained by Nigerian Concord Newspaper, the embattled APC governorship candidate
who proclaimed that he was the Messiah of Benue state noted that the trio of Akume, Aku and Adasu had failed to bring the state out of poverty and underdevelopment.
In the statement, Alia described the trio as looters of Benue state's treasury. He however vowed to institute a probe panel to investigate the administrations of the three of them for "unconscionable looting of public funds, poverty and economic backwardness" if he is elected as governor of the state in 2023.
Meanwhile, Father Alia has come under heavy criticisms since he released the statement which sought to indict his benefactor, Senator George Akume, Aku and others.
Those who commented on the issue described Alia as a man who is biting more than he can chew. They wondered why someone who is not even sure of his candidacy status is already making inflammatory statements in the media accusing Akume who single-handedly and illegally imposed him on APC.
Others have described Alia's comments as shocking and unfortunate coming from a man who is supposed to be God-fearing. His attack on Aku and Adasu has drawn the most condemnations. His utterances targeted at the duo who are no longer alive to defend themselves have been interpreted as Alia's spitting on their graves.
Some persons who commented on the statement challenged Alia to show just one pit latrine that he built in any of the churches where he served as a priest before he was unceremoniously suspended for contumacy.
It will be recalled that since after he dumped his calling as a reverend father and joined politics to aspire for the APC governorship ticket, Hyacinth Alia has put on the regalia of a messiah. He sees himself as the saviour of Benue State. Yet, he has been a priest for 33 years but has no tangible project to his name. The only thing he is known for is the sale of satchel water to unsuspecting worshippers and making money from the poor masses.
Alia was fraudulently smuggled in as APC governorship candidate in May 2022 and he came out to accept the "result" of the election that was widely condemned even by the party's appeal panel as "yahoo yahoo primary election". He described the election as transparent, free and fair.
"That is the kind of man who is today calling Aper Aku and Adasu as looters" an aggrieved social media influencer said