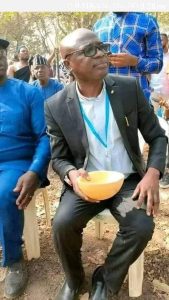 Nigerian Concord Newspaper
The National Coordinator, Coalition for Truth & Justice, Aloysius Gbakaan has described the disputed governorship candidate of All Progressive Congress in Benue state, Reverend Father Hyacinth Alia as a Fulani agent who is being sponsored to help enemies of the state to take over Benue lands and occupy.
The group was reacting to reports where Alia was quoted to have described as archaic, outdated and unacceptable the settlement patterns among people of the state, particularly the Tiv speaking areas.
The reports also accused Alia to have vowed to aggressively stop the practice if he becomes governor but the Coalition for Truth and Justice said the people of Benue state will strongly resist the occupation agenda of the APC and its financiers.
"We know that the man Alia is acting the script of his sponsors and he has failed already. Even if our settlement pattern is not the best, saying that everybody will be chased away from the hinterland is a sinister plan to allow the Fulani to seize our lands. The good thing is that he is not even sure of being in the governorship contest, so someone should tell him to quietly enjoy the millions some Fulani governors gave him", he stated.
Gbakaan further berated the disputed governorship APC candidate of insulting the sensibilities of Benue people with his constant accusations against them and warned that any candidate who conspires with outsiders to deceive his people will fail.
"We are aware that he has been holding meetings with that short man in Kaduna and the others to work against the interest of Benue people; but what they don't know is that we are resolute to defend our land with our votes. We will reject all Miyetti Allah candidates in this election, beginning from top to bottom," the CTJ National Coordinator added.
Recall that the suspended Catholic priest while addressing reporters in Makurdi days ago was quoted to have said that if elected, he would embark on an extensive relocation programme to move the people from their ancestral settlements to local government headquarters so they can live in clusters to make land available for crop farming and animal husbandry.
Alia attributed the herders' attacks on Benue people to the scattered settlements and farming practices of the indigenous people, saying that the trend is responsible for the frequent conflicts between herdsmen and farmers. He stated that it is wrong for anyone to blame only Fulani herders for moving about with their cattle as, according to him, majority of Benue people are also into shifting cultivation of crops.
The APC disputed candidate promised to review the Benue state open grazing prohibition and ranches establishment law which he said is responsible for the crisis in the state. He accused members of communities in the state of engaging in cattle rustling which according to him leaves the herders with no option than to attack such communities to retrieve their cows.