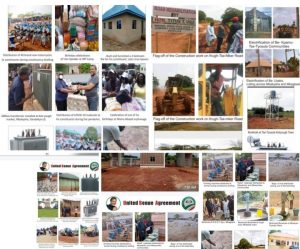 Nigerian Concord Newspaper gathered
He puts on no airs or a domineering mien. He is not cocky or impertinent. He listens. He does not claim to be the only one with all ideas. He makes no discriminations when relating with fellow human beings. He is a team player. But he also admits that he is not perfect, like any other human being. His name is Titus Tyoapine Uba, the incumbent Speaker of the Benue State House of Assembly who is also the duly nominated Governorship candidate of the Peoples Democratic Party, PDP in the state.
Before I joined the 2023 Benue State gubernatorial race, I knew Rt Hon Uba and we had on several occasions come in contact and worked together in some instances. I came closer to Uba when I began consultations for the guber race and we aspirants formed a Forum which strengthened our bonds. Uba, despite his exalted position as Speaker of the State Assembly, related with every member of the Governorship Aspirants' Forum as equals and members of one family. Anytime a need arose for us as aspirants to make donations to support our great party, the PDP, Uba was often among the first to send his contribution to the Forum's treasurer. He showed uncommon commitment to our collective strength, both as aspirants and as a party.
When the mock election to decide a consensus candidate for Vandeikya, his home local government area was conducted and there arose complaints and controversies which even led to accusations and high emotions, Uba did not utter a word against those who conducted the exercise in which he was said to have come 4th. After the leadership of the party annulled the mock exercise and adopted zoning, I was sitting next to Uba on the night that zoning was decided between Jechira and Kwande. When Jechira was eventually favoured by the zoning, he turned to me and calmly said, "congratulations my brother." For him, it didn't matter who would be picked from then on. For him, it was not about self. He reaffirmed his earlier statement to support anyone who was chosen to fly the party's flag. I also returned congratulatory courtesies to him as we waited for the final decision between Konshisha and Vandeikya. The party's verdict came moments later. Vandeikya was favoured to produce the next Governor of the state. The rest, as they say, is now history.
Weeks later, stakeholders from Benue North East and West Senatorial Districts unanimously endorsed Uba. So when I came out as the first co-aspirant to accept the guber decision of the party, I sincerely did it and with the confidence in him as one who would not disappoint the people. He has not proven otherwise, as he continues exuding amiable leadership qualities.
Uba went on to emerge as the PDP governorship candidate in a transparent primary election at Aper Aku Stadium, Makurdi. Soon after the primary election, Uba moved swiftly and visited all his fellow aspirants to assure them that the ticket given to him was for all of them. That move was not only timely but it also consolidated the unity within PDP in the state and gave a sense of belonging to other aspirants and their teeming supporters. He has sustained the style of inclusiveness. It is an understatement that there is no single petition or litigation against Uba by any PDP aspirant or member. With Governor Samuel Ortom's inclusive leadership approach in synergy with the State Working Committee of the party, PDP in Benue State is marching to 2023 victory as a united house.
Development Antecedents
Titus Uba has not come to the governorship race without a track record of achievements. He has an impressive scorecard that stands him out in his quest for Benue's top job. His antecedents put him far ahead of others to get the mandate of Benue people next year. His leadership credentials and qualities are in public domain, particularly as it is glaring in his peaceful running of the state parliament as the helmsman over the years.
The 9th Benue State House of Assembly under the Speakership of Uba, since 3rd of June, 2019 when it was constituted, has enacted many laws that have direct impact on the people, thereby restoring public confidence in the legislature through transparency and accountability, just as the Assembly ranks high in oversight functions strengthening checks and balances in the operation of government machinery.
I am well aware that the Benue State Assembly under Uba as Speaker, adopted a legislative approach that engenders positive changes in social justice, sustainable economic growth and development, job creation, gender equity, educational reforms, anti-corruption, sustainable agriculture, public health and the welfare of Internally Displaced Persons, among others, using all legislative tools of intervention at its disposal.
Born on September 25, 1965 in Ugba, Logo Local Government Area of Benue State to the family of Tyosula Uba of Mbakyaha Council Ward of Ute in Vandeikya Local Government Area of the State, Titus Uba has acquired a solid educational background which has prepared him for the enormous task of governing the state as he is already adding value towards moving Benue to greater heights as the state number one lawmaker.
From his elementary education at L.G.E.A Primary School, Akehe and later at Demonstration Special Primary School, Makurdi between 1974 and 1979, through Mt. St. Michael's Secondary School, Aliade between 1979 and 1984, from where he proceeded to Federal Polytechnic, Idah, now in Kogi state obtaining a National Diploma in Mechanical Engineering in 1989 and later attended Federal Polytechnic, Bauchi where he bagged a Higher National Diploma in Mechanical Engineering in 2004 to the University of Agriculture, Makudi now Joseph Sarwuan Tarka University where he is currently studying for his Master's degree in Mechanical Engineering, Uba is sufficiently equipped educationally and he understands the dynamics of leadership.
Engr Titus Uba's years of cognate experience in the manufacturing sector and administration beginning from Ajaokuta Steel Company in 1985 and Benro Packaging Company Limited, his appointment with Vandeikya Local Government in 1991 and YUTECO Foods Limited, Gboko to Teragro Commodities Company (an Agri-Business subsidiary of Transcorp PLC), no doubt laid the foundation for him to aspire to greater positions of leadership with his unassuming personality.
In 2015, having watched from the sidelines the need for an effective representation of his constituents, Engr Uba threw his hat into the political ring. He contested and won election as Member of the Benue State House of Assembly representing Kyan Constituency of Vandeikya and was elected by his colleagues to serve as Majority Whip in the 8th Assembly, and in the twilight of the parliament as the Speaker.
Owing to his inspiring performance and effective representation, the people of Kyan Constituency re-elected him in 2019. He thus became only the second lawmaker after Rt Hon Mzenda Iho to serve as Speaker in two separate Assemblies. As member/Speaker of the 8th and 9th Assemblies, Rt Hon Uba has touched the lives of his constituents and beyond in the following ways (as I have verified):
1. Caused the electrification of Tse Kpamo, Tse Tyosula communities.
2. Electrification of Abutu Secondary School.
3. Electrification of Tse Usaka Villages cutting across Mgbagbam and Mbakyaha Council wards in Vandeikya LGA.
4. Caused the electrification of Branch Akaazua Muemue to Mbawuar Secondary School, Tse Muemue and the adjoining villages all in Mbadede council ward .
5. The Speaker also provided motorized boreholes at Tse Tyosula and Koti-Yough towns in Mbakyaha.
6. He also provided a borehole at NKST Gyu in Mbagbera Council Ward in fulfillment of the promise he made during a thanksgiving organized in his honour by the Church.
7. Distribution of grinding machines to women of his constituency.
8. Renovation of a Police station at Tse-Mker, Vandeikya Local Government Area.
Other projects executed by Rt Hon Uba (as I have verified) include:
9. Distribution of more than 40 brand new Motorcycles to members of his constituency.
10. Provided boreholes in Ihugh town of Mbadede council ward, Ifan – Tsambe council ward, among others.
11. I have also verified that Uba has provided a clinic for the people of Mbajor council ward. It is located at Ingyor settlement of the area.
13. There is also a completed bridge across River Wacham in Mbakyaha council ward courtesy of the Speaker. River Wacham is on Koti-Yough-Pev-Amadu Mbagbera Road.
14. During the COVID-19 lockdown, Engr Uba toured his constituency, sensitized the people and distributed materials to cushion the difficulties the people faced at the time.
15. Engr Uba also constructed an Ultra modern School gate at Mount Saint Michael's Secondary School, Aliade, his alma mater. The list goes on.
Uba has no doubt proven himself to be a politician par excellence whose approach to seeking leadership responsibility as Governor to serve the state is completely devoid of arrogance or the air of knowing all and castigating the concerted efforts of past and present leaders who have laboured to lay a foundation for the state. He has never boasted about his achievements, but continues to count on the unfailing grace of God and support of good spirited Benue people home and in the diaspora.
The Titus Uba/John Ngbede gubernatorial ticket is a blend of an unassailable team that will cleverly navigate and sail the political tides to victory for the PDP with Benue's interest as the bigger picture. While Uba will bring legislative governance experience to bear as a two term parliamentarian and as a technocrat to drive a vision for a greater Benue, Ngbede will play a fantastic complementary role as a consummate party stalwart and former member of the State Executive Council, himself an exceptional administrator with proven record of impressive performance in previous responsibilities.
As Benue people prepare for the 2023 elections, there is only one obvious choice for the seat of Governor. That choice is Titus Uba of PDP. Uba has what it takes and is ready to serve. Rt Hon Titus Tyoapine Uba is unarguably, the man who the cap fits!
Terver Akase is the Special Adviser to Governor Samuel Ortom on Media and Publicity